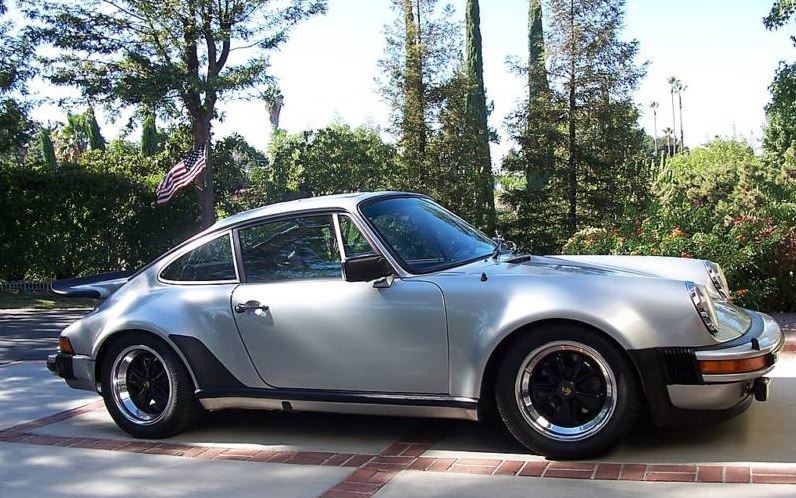 I wasn't going to post this one up, but it's just too rare to not call attention to it. I came across an auction for a 1977 Porsche 930 yesterday. This one, though, appears to be a one owner car! Here are some details from the auction description:
HISTORY: I have babied my classic antique sportscar since buying it new in 1977.  The treasured vehicle has been kept garaged and covered.  It has been used for weekend pleasure driving–never for racing, or commuting.

FEATURES:  My car has a 3.4 liter engine, original 5-speed transmission, auxiliary oil cooler, A/C, power moon roof, original Becker sound system, car cover, mirror covers, polished wheels, Pirelli PZ radial tires, and an alarm system.  I've kept all maitenence documentation and the manuals.  The car was repainted to factory specifications, using 35 coats of silver laquer in 1987.  The engine was rebuilt to factory specifications in 1999–and it has just 50k miles on it now. All chrome, stainless, glass and leather are in fine condition.
This sounds like a pretty sweet car. Can you imagine being the second owner of a 1977 Porsche like this?!
This is another car on my list to own at some point in my life. Although I'd prefer a 1978 or 1979 Porsche 930. I just think it'd be a heck of an opportunity to own one of the first models of the 911 Turbo series, especially since I've had this love affair with the 911 Turbo for so many years.
Here's a link to the auction if you want to see the rest of his pictures: 1977 Porsche 930
.