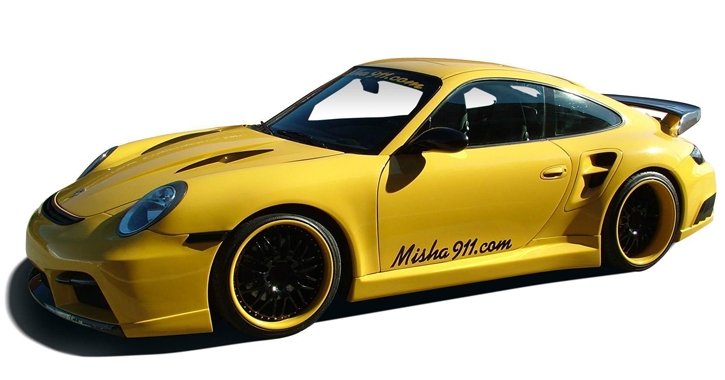 Misha, a Porsche tuner I hadn't previously heard of, has released a new kit for the Porsche 911 Turbo (997). It's a body kit that has a number of different options depending on your budget and desired outcome. Here's a quick list of what they replace:
Add-on Wing
Front Bumper
Hood
Rear Bumper
Side Skirts
I kind of like the look of the kit. It reminds me of a race car setup with the low skirting and overall lines. The color above is not my favorite, but I bet this would look great in black or even silver. This one kind of looks like a bumble bee.
I couldn't find costs immediately available for the parts, but Misha Design claims that one of their goals it to offer affordable components to Porsche tuning shops. If the parts were well made and reasonably priced, I would think these guys would get some traction among Porsche enthusiasts.
If you're unfamiliar with Misha, here's a little blurb about them from their site:
Misha Porsche body kit company was established 6 years ago and produces the highest-quality body kits to transform Porsche from the ordinary to the extraordinary. Recognized in the Porsche community for excellence in design, quality workmanship and outstanding service, we are dedicated to creating your dream machine.

Misha company is the result of Misha Rade Djordjevic's extraordinary passion for designing unique and visionary parts for Porsche. What started as a passion quickly turned from a hobby into a thriving business. Misha designs and creates most of the parts for his own Porsche first and only sells parts that he himself would use.

His Porsche transformations have been featured in popular car magazines, car shows and internet forums, and have earned him a reputation in the Porsche community for excellence in design, quality workmanship and outstanding service. From 2004 cars with Misha parts were at SEMA show every year.

Today Misha offers exceptional, innovative wings and body kits to enthusiasts at affordable prices and also supplies parts to many Porsche tuning shops and dealers in US and worldwide.
Misha Design also provides kits for several other Porsche models as well as other makes. Check out their site here: Misha Designs.
[Source & Image: Misha Designs]