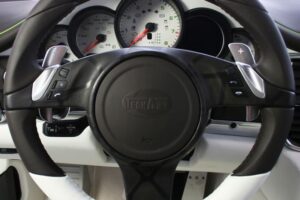 Order up your Porsche with PDK, but wishing you had paddle shifters? Well wish no more! TECHART has just released a retrofit option allowing Porsche owners with the standard PDK gearshift switchers to upgrade to paddle shifters. The paddles are ergonomically mounted allowing the driver to shift up by pulling on the right paddle or shift down by pulling on the left paddle.
I'm assuming PDK is required for the upgrade, although the press release indicates the TECHART paddle shifters are available for "all Porsche sport steering wheels and multifunction steering wheels with PDK gearshift switches as well as all TECHART sport steering wheels. Price is set at 490 EURO.
I'm not sure how I feel about paddle shifters. I'm sure you'd get used to them and probably love the feel, but it just seems a bit hokey to me. Although they've had them in race cars for years and Ferrari has had them in their cars for a number of years now as well. In my mind, if I'm not going to be reaching for a gearshift, I'm not sure I want to flick the paddle shifters. I think I'd rather just let the electronics shift for me.
I wonder how many owners with a PDK equipped Porsche actually opt for manual mode any amount of time? That would be an interesting stat to determine if the manual mode is more of a novelty than a useful feature for 95% of the way Porsches are driven. I'm assuming the manual mode of PDK would be very useful in racing or track even situations.
On a completely unrelated note, anyone ever seen a sports car with a column shifter? Now THAT would be something. A Porsche 911 with 3 on the tree.