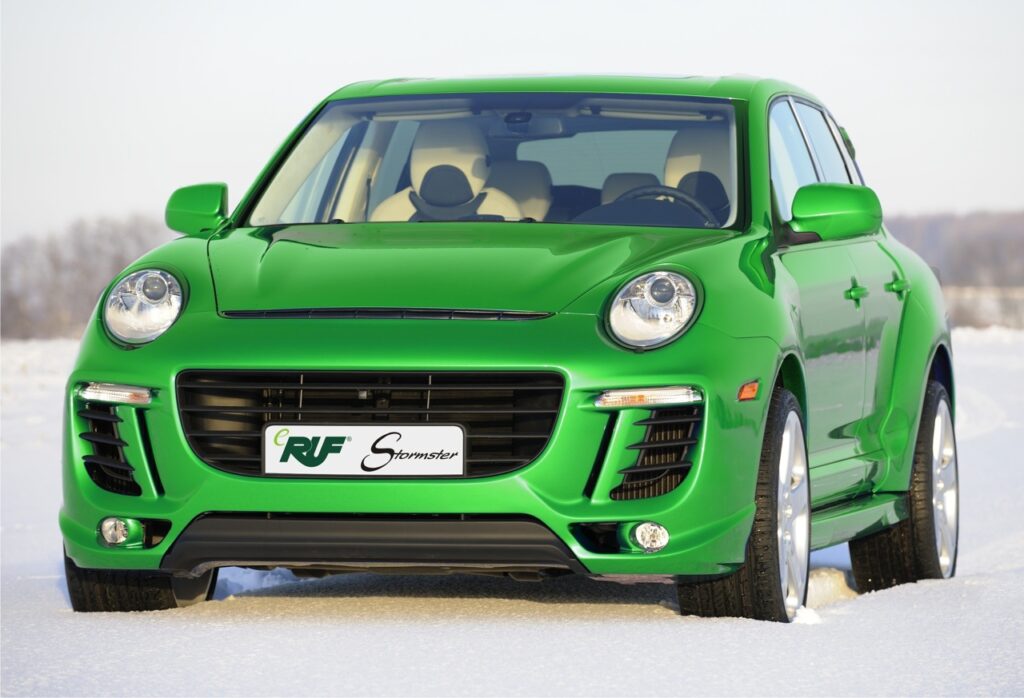 Earlier this year, the RUF Greenster, an electric version of the 911, started hitting the radar. This was a few months after they announced the concept of their first electric car in October of last year. They've just upped the ante a bit more and have introduced the first electrically driven SUV. Based on the Porsche Cayenne, it's named the RUF Stormster.
The Stormster is in the middle of it's public debut at the European Climate Change Conference in Copenhagen. The conference started on Dec 7th and is running through Dec 18th, just in case you want to snag a last minute ticket and fly over to see the green SUV in person.
To whet your green whistle, here are some initial specs on the RUF Stormster:
It's driven by a Siemens electric motor, with 270 kW (367 bhp)
Total weight is 2,670 kg
0 to 62 mph in 10 seconds – not too shabby for an SUV-based electric car
Top speed is about 93 mph
Range on a single charge is about 120 miles
Production is supposed to begin later in 2010. No price has been released yet, nor what the "limited" production numbers will be.
Personally, I love the look of this RUF creation. Heck, I'd be tempted to buy the Cayenne based ride just because of the name alone! Kind of a Porsche meets Star Wars kind of thing. I can't believe it's the first electric SUV, but now that I think about it, I can't recall any others.
I admire RUF for taking the bull by the horns and providing some viable electric versions of our favorite marque's cars. I'm sure they're not, but it appears they're ahead of Porsche in potential production electric cars. Gotta hand it to them. They're constantly pushing the envelope.
[Source & Image: RUF Automobile]