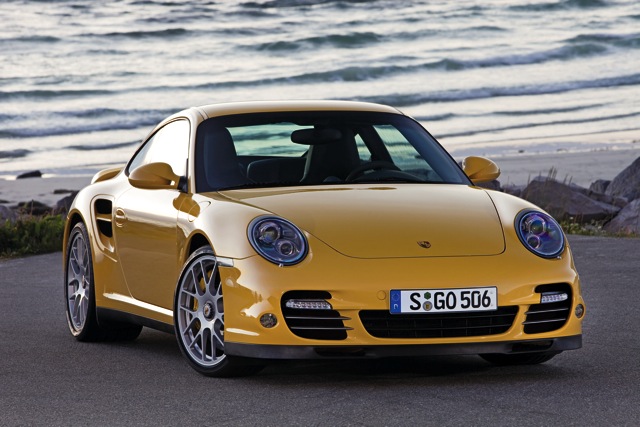 Don't you love it when stuff in print supports what you personally feel? This happened to me this past weekend when I came across an article written on Autoblog.com about the 2010 Porsche 911 Turbo. Here's how the article opens:
It's faster to 60 mph than a Lamborghini Murcielago LP640 or Ferrari Enzo. Porsche's fastest offerings, including the Carrera GT, GT2 and road-going 911 GT1 "Strassenversion" will only see its LED tail lamps during a typical sprint. Only the unlikely – make that incomprehensible – meeting of an SSC Ultimate Aero or Bugatti Veyron at a stop light will concern this car's owner that he or she has met a worthy adversary. [from Autoblog.com]
YES! I love that Porsche's road going version of the 911 Turbo is capable of besting even the die hard, track specific 911's, not to mention the other supercars on the list of the world's fastest. I'm sure the bulk of the personal glory and satisfaction I'm feeling in my head at the moment is the result of a looooooong love affair with the 911 Turbo.
What's more is I really want one of these cars (duh!), but here's the thing…I'm not really a fan of buying new. Sure you get that new car smell and get to burn the paint off the motor yourself, but I, by and large, think buying a new high end sports car is a waste of money. Even if I had the money to go out and buy whatever I want, I wouldn't choose to buy new. I'd rather have 2 or sometimes even 3 supercars for the price of 1 by buying something that's a couple two or three years old.
However, all that went out the window once I read this article about the new 2010 version. I'm ready to sell a kidney and head down to the Porsche dealership to plunk down a deposit on a new 2010 Turbo (too bad eBay banned auctioning off vital organs!). It's crazy what a car will do to you.
For now though, join in my dream and take a look at the article at Autoblog.com. You can find it here: First Drive: 2010 Porsche 911 Turbo is Stuttgart's quickest car yet. At the very least, you HAVE to see the pictures they took of the blue Turbo Porsche provided for the test drive. GORGEOUS!
[Source: Autoblog.com; Picture: PCNA]