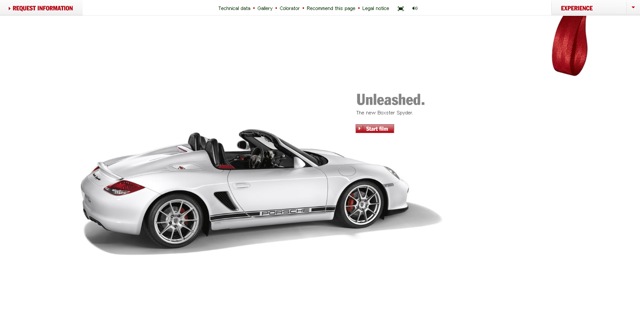 Got the Tuesday blues? Fortunately Porsche is coming to the rescue. Late last week, Porsche released the Boxster Spyder Web Special on Porsche.com. As usual, the site doesn't disappoint. Take a few minutes and head over to Porsche.com or go straight to the web special through this link: Porsche Boxster Spyder Web Special.
Here are some of my favorite things on the site:
Pull strap navigation. I've always been fascinated for some reason with the pull straps Porsche uses in it's RS and lighter versions of it's cars. They just look cool and seem so minimalistic. Once you're in the web special, click on the red pull strap to move through several of the focus pages.
Unleashed video under Experience. This is some sweet footage. I especially love the moving shots where the car is coming up on the camera. Definitely watch this video in full screen with your face closer to the screen. It's pretty cool.
Technical Data page. I love how they have all 3 Boxster models side by side to compare specs between them. Gives you a good sense of how the Boxster Spyder stacks up against the Boxster S, which is the next closest model performance wise.
All in all, I'm really excited about the Boxster Spyder. I think it promises to be a significant model that will further legitimize the Boxster's place in the Porsche lineup. Can't wait to see Brad's in person!
[Source & Pictures: Porsche.com]