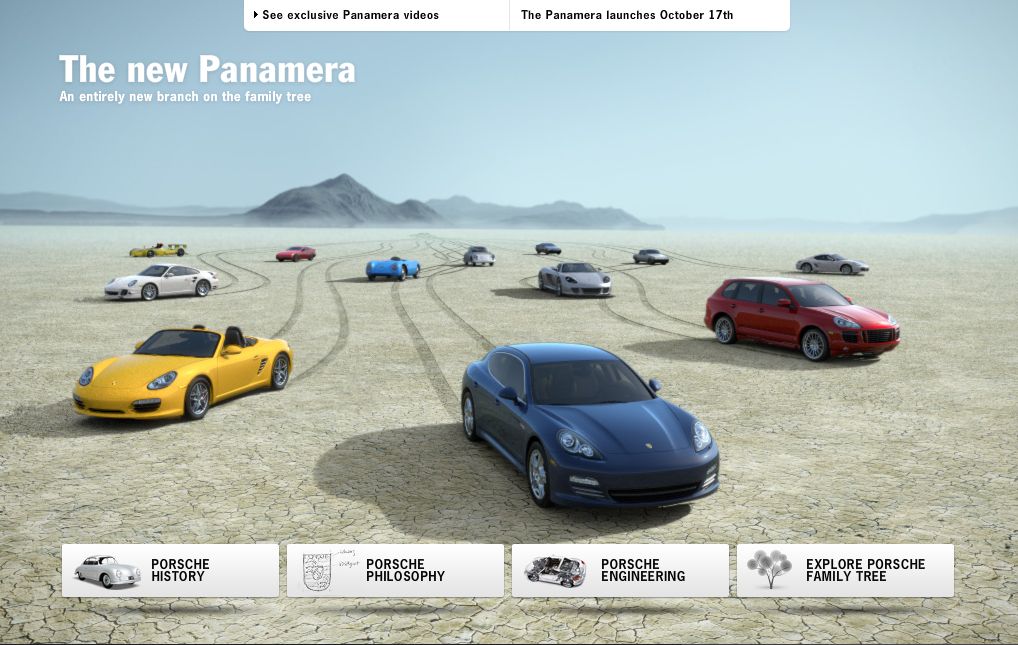 This morning I had an email from the "Porsche Team" waiting for me in my inbox. It was announcing the new Panamera.com web site. I fully expected this to be another model specific site, which it is, only with some great Porsche history additions.
The first screen you see is the one above presenting examples from every Porsche model released to date including major iterations of the 911 series. You can mouse over any of the pictures and click on one to see more pictures and history on that model. The first one I clicked on was the tiny 928 you see waaaaayyyy in the background. A pretty cool feature.
Other features on the site include a look at Porsche history, a number of videos about Porsche philosophy and a few technical videos highlighting Porsche engineering. You also will find something new Porsche announced to PCA members a few weeks ago called the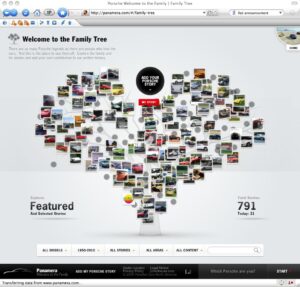 Porsche Family Tree. It's kind of a neat little tree graphic with a bunch of Porsche pictures shown in place of leaves on the tree. Each picutre has a story attached to it.
Once in the Panamera focused section of the site, there are all the eyeball busters we've come to expect out of Porsche's web efforts. You can look at stunning images of pretty much every bit of the Porsche Panamera including the interior, exterior and technical features in action. Something particularly cool is the 360° video of the interior, although it's a bit short.
There are also lots of pictures, wallpapers and whatnot in the Extras section. All in all, this is near web perfection in my opinion. Gorgeous pictures. Cool navigation. Quick loading. Lots of stuff to explore.
Check out the new Porsche Panamera site here: Panamera.com.
[Source & Pictures: Panamera.com]