You can love fine cars, big houses and expensive toys, but sometimes we don't consider the added expense or hidden costs of our expensive addictions. Of course a Porsche is no different. When it comes to auto insurance for your dream ride, or even just an "average" Porsche, the costs can be crazy.
I recently saw a Top 20 Most Expensive Cars to Insure for 2009 list on a web site and a Porsche 911 was parked right at #10. I think it had an average annual premium of something like $1800. That's a hefty chunk of change. Interestingly enough, the Nissan GT-R was at the #1 spot at over $2500 per year to insure on average.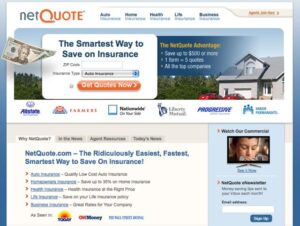 Fortunately there are lots of options with insurance these days. Shayna over at NetQuote.com asked if I would do a little review of their service and give my thoughts on the site. Before you bail on this post because you're not looking for insurance, stick with me. There's a little something in here for everyone and will be worth the extra 5 minutes it will take you to read the rest of the post.
When you get to NetQuote.com, you can see from the screen shot, that it's a nice clean layout with one purpose in mind: getting you a quote for your insurance needs. To get started, all you need to do is plug in your zip code and select the type of insurance you're interested in getting a quote for. Pretty simple.
Here's what I like about NetQuote.com:
Multiple companies available for quotes – I loved that commercial a few years ago about insurance companies beating down the door to get my business. In similar fashion, NetQuote.com will give you quotes for 5 or more companies to help you get the best rate.
Great suggestions on who to think about for insurance – I tend to get stuck in a rut when thinking about things like insurance. Lots of times there other companies that should be considered that could help save money or offer better service, but they just don't cross my mind when I go to look for something like insurance which happens maybe once every few years.
Easy to navigate site – If a site selling a service like this can't get their focus narrowed down to make it easy for me, they don't even deserve a chance at providing me with a quote in my opinion. NetQuote.com was drop dead simple in my opinion.
The commercial cracked me up – I'm sure lots of you are thinking "What the heck?!", but this is something everyone should check out. I liked the commercial (you can view it on NetQuote.com's site on the right hand column on the home page). I think it's every kid's dream (and probably every adult's too!) to have money come shooting out of everyday places like a toaster. The kid wiping his mouth with money was awesome. Reminded me of the E-Trade Insurance commercial with the patient in the emergency room… Nurse: "Does he have insurance?", Doctor: "What for? He's got money coming out the wazoo!"
What I think needs to be improved:
I had to enter info twice – After filling out the forms for a quote, I was presented with links to multiple insurance companies. Very cool. BUT… I then had to enter the same info on the insurance company's site to actually GET the quote. That was a bummer. NetQuote.com needs to work out passing my info to the insurance company, with my permission of course, to streamline the process.
I want easier comparisons – I love the power of pulling quotes from multiple companies easily, but I'd like a process that is more aggregated rather than having to fill out forms for multiple companies to generate my own comparison. Again, all about making it easy on the consumer.
All in all, if I were in the market for auto insurance, or any other type of insurance for that matter, I wouldn't think twice about giving NetQuote.com a shot. I don't know that it'd save me $500, but I can't imagine it not saving me at least a little bit. The improvement points aren't showstoppers, just points to be aware of if you give the service a try.
Check out that commercial and the site here: NetQuote.com.