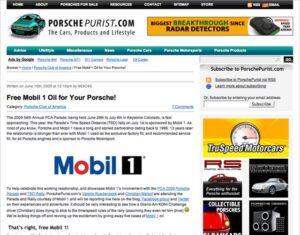 Mobil 1 is taking an active involvement in the 2009 PCA Parade. To help celebrate this, Mobil 1 has made some free cases of oil available to a great Porsche blog we've mentioned in the past called  PorschePurist.com. To sign up, head over to the blog, check out the post and leave a comment. He's also got a couple of other things you can do for additional chances to win. Now I'm no gearhead, but I do know that Mobil 1 is supposed to make some great juice for your Porsche's (or any car's) engine. This should be the stuff you use in the Giveaway Porsche should you be the lucky winner.
One quick note…John (the owner of PorschePurist.com) is an active reader and commenter on PorschePerfect.com and an all around great Porsche guy, so I would love it if everyone would take 60 seconds, jump over to the Free Mobil 1 Oil post on his blog and leave a comment. In fact, to help things out, I'll throw in an extra entry for every person who comments on John's Free Mobil 1 post, then leaves a comment on this post with a matching user name.
Sign up for the Mobil 1 Oil giveaway TODAY! Free Mobil 1 Oil for Your Porsche at PorschePurist.com.