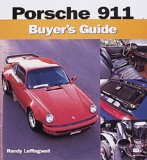 I just finished reading through the Porsche 911 Buyer's Guide
by Randy Leffingwell. I've actually had the book for a while, but previously only referred to particular sections related to 911s I was considering buying.
Now you may write this off as not applicable to you unless you're in the market for a used 911. Before you do that though, consider buying this book for these reasons:
It will educate you about the 911 series and offers great buying advice that is non-911 and even non-Porsche specific.
The more you're aware now of what to look for when buying a used 911, the easier it will be to go through the process when the time comes that you're ready to start looking. Also if you happen on a deal you can't pass up, you'll be more prepared to truly evaluate the car.
Come on, it's a book about Porsche 911s! It's interesting, has lots of pretty pictures, and is worth your time.
Before I get into what I thought of the book, let me give you a quick summary of what the author was trying to accomplish. He put it best at the end of his introduction:
"…to make the car shopping, examining, and purchasing stresses manageably low, so the driving and pleasure quotients remain very high."
Leffingwell (sorry, we're not on a first name basis) lays out a heck of a process to go through when evaluating a used Porsche. He guides you step by step around each area of the car and takes you through a detailed evaluation. So detailed is the process that I found myself wondering how anyone would get through this with a seller standing over you.
Next he goes through some of the specialty cars or the cars with special concerns such as Targas and Cabriolets, and Gray Market cars. The rest of the book is dedicated to each year, a synopsis of the year's cars, specifications and specific problems, benefits and things to think about with each year.
I liked a lot about the book and found a number of things beneficial about the read. Here are my highlights:
Pre-purchase inspection chapter. It's by far the most detailed inspection I've ever seen. It's especially helpful for a non-mechanical guy like myself. I've even started looking over the Giveaway Porsche and evaluating it for practice. Some of the stuff is a bit lofty if you ask me, but it's an excellent standard to evaluate a car by.
Year by year synopsis of each vehicle. I found this very helpful not only in determining what model year(s) I might want to buy, but evaluating a particular year as I found cars I liked. The specifications and rundowns were a nice summary and primer.
Parts lists for each year. Helpful in figuring out what potential costs might be like.
Garage watch for each year. It's helpful to see the overlay of potential problems, features and benefits on a picture of a 911. Made it easier for me to remember things to look for when I went out to test drive and look at cars.
All in all, this is a great book for anyone interested in any Porsche models. It'll prep you to be ready for the purchase process. I highly recommend this book. Buy it from Amazon.com here: Porsche 911 Buyer's Guide