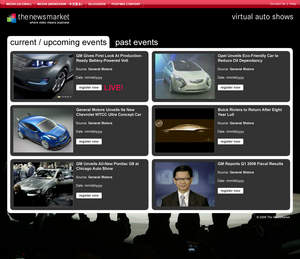 The NewsMarket will be unveiling it's new Virtual Auto Show service on January 11, 2009 at http://www.tnmlive.com/. The service promises to dramatically reduce costs for both carmakers and attendees while providing a more effective communication channel connecting with a significantly broader audience.
A number of carmakers including Porsche, Nissan, Land Rover, Mitsubishi and Suzuki have announced they will be skipping the 2009 North American International Auto Show in Detroit. Attendance by the media is also expected to be down at the show. The Virtual Auto Show service will fill a big need for creating energy and excitement around unveilings.
I've been a fan of virtual trade shows for a few years and have attended a couple in the Internet marketing space. I find them to be effective, efficient and worthwhile. Of course you miss out on the personal interaction and networking, but for an average consumer in the context of an auto show, I don't know how much of a negative that will present. I for one will love seeing live unveils and press conferences I probably wouldn't otherwise have the opportunity to attend.
On the downside, I wonder if people will miss actually seeing the cars live in person and getting to touch, peek in the windows, sit inside, etc. One of the biggest reasons I attended the Frankfurt Auto Show when I lived in Germany was to be able to see the cars first hand, all in one place. Auto shows, for the average consumer, are more of a museum of modern and future transportation.
[Via MarketWatch]