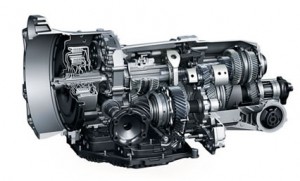 With a name like Porsche Doppelkupplungsgetriebe, it's gotta be good. Porsche's PDK, I've learned, is an extremely impressive option for both the 911 Carrera and 911 Targa 4 models. Like most Porscheophiles, I've never been a big fan of automatic transmissions (or anything that even hints at it) on sports cars, especially Porsches. I suppose I'm somewhat of a purist in how I think a Porsche should be driven: manually.
I could see a case for the automatic transmission in the 928s back in the day, given that it was more of a touring car. I wasn't a fan of the Tiptronic transmission, even though I've never touched one (call it blindly ignorant purism). So when I read a little snippet about Porsche's PDK gearbox in a Fortune Magazine review of a 2009 911 Targa 4S, I was surprised and intrigued by what I read.
PDK is essentially two gearboxes in one.  Each with it's own electric clutch. Once a gear is engaged on one gearbox, the next gear is automatically selected and spooled up being made ready to activate. This double clutch provides an alternating, non-positive connection between the gearbox and engine allowing gear changes to take place within a few hundreths of a second. No more power interruption as happens during a conventional shift.
Here are the results, according to Porsche:
Extremely fast gear changes with no interruption to the flow of power.
Faster acceleration response compared to manual transmission.
Lower fuel consumption.
Significantly enhanced comfort.
Real world reviews of the latest renditions appear to fall in line with Porsche's claims. Reviewers seem to be amazed at what is taking place. Check out what Sue Zesiger Callaway had to say in her review for Fortune:
I kept playing with the wheel-mounted shift buttons – up, up, down, down, up, down, up, down – just to convince myself the car shifts as smoothly as it does. No performance or traction is lost – when you're in one gear, the next is already spooled up and ready to activate. I couldn't stop. (Read More)
PDK also has allowed for some extreme fuel savings over previous models with manual transmissions such as Klaus Niedzwiedz's mini "hypermiling" experiment.
In theory, and even in a few informal tests, a PDK equipped 911 produces faster 0 to 60 mph times than even the most efficient drivers can produce with a manual transmission equiped 911. Could technology outpace a human on this sacred front?
Porsche PDK is one "automatic" transmission I'm excited to try.