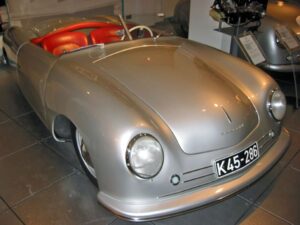 It looks like those lucky enough to be going to the L.A. Auto show officially starting on Friday will be in for a treat from Porsche. Porsche is celebrating over 60 years of Porsche cars. In addition to the usual reveals of coming vehicles, some rare gems will be displayed alongside their new kin.
Probably the coolest one in my opinion is "Porsche No. 1". I was lucky enough to have seen this car in person about 15 years ago at the Porsche factory museum. It's a bit of a surreal experience seeing the first Porsche considering how far the brand has come.
Also on hand will be a Porsche 550 Spyder from Jerry Seinfeld's private collection. It looks like it's a 1956 550 1500RS with chassis number 550-080. Based on what I've read, he's owned it for a few years and it has shown up at several events/shows.
Porsche will also be showcasing its next generation mid-engine cars at the show. Facelifts for the Cayman and Boxster are also to be revealed.
I had the opportunity to visit the Frankfurt Auto Show a few years ago. It was an amazing event, as an auto show should be, easily trumping any other show I'd ever been to. The Porsche booth was unbelievable. The thing I appreciated the most was being able to walk right up to the cars. Unlike some of the other manufacturers like Ferrari and Lamborghini, Porsche didn't have their cars roped off. To me, that's the way an auto show should be.
Should be an exciting show. If you happen to make it, send some pics along. And if you've never been to one of the major auto shows, plan on going some time. It's an experience that is well worth the time and money to get there.