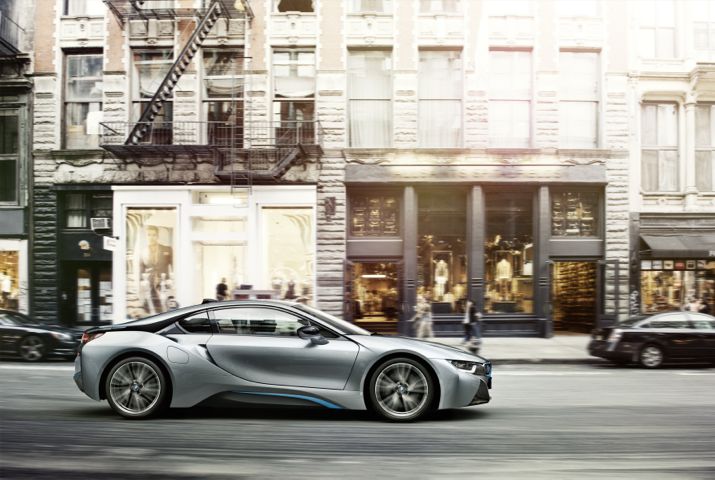 I'm a technology fanatic. I love it when new things come out that make life more interesting. When technology enters the automotive world, great things tend to happen. Cars like the Porsche 918 Spyder introduce lots of cool R&D geekery to the road, giving us sub-$100k car drivers a taste of what will eventually filter down to our rides.
The BMW i8, first seen earlier this year, promises to push the envelope of technology, even redefining parts. Here's a quick snippet from a press release last month:
The world's most advanced sports car is unquestionably the BMW i8. It combines the dynamics of a high-performance sports car with the fuel consumption and emission levels of a small car. The 2+2 seater featuring a visionary design is suited for emission-free city driving and offers sporty performance for country roads and highways. The vehicle's plug-in hybrid system comprises a supercharged three-cylinder petrol engine with BMW TwinPower Turbo Technology delivering 170 kW/231 hp and BMW eDrive technology in the form of a 96 kW/131 hp electric motor. With the power of both engines, the BMW i8 sprints from 0?100 km/h (62 mph) in just 4.4 seconds. Average fuel consumption according to the EU test cycle for plug-in hybrids is 2.5 litres/100 kilometers.
This will be a great car, to be certain, however I'm particularly excited about one feature: the key fob! Check this bad boy out:
Now if THAT isn't a sexy piece of mini techno machinery, I don't know what is! Based on what is displaying on the screen in the sample shot above, this thing can tell you:
Whether the car is locked or not (one of my favorite features)
The current charge of the cars battery bank and when it will be fully charged
The available driving range of the car
The amount of gas in the tank
The current time (as if your Rolex Daytona isn't good enough!)
Sure people are already complaining about how the fob is too complicated, that the screen will get scratched up, etc, but I personally love it. I can't wait to see how quickly the mini LCD screen makes it down to more average cars.
Just don't lose the thing. I can imagine the replacement cost will be more than the MacBook Air I'm writing this post on.
[Source & Images: BMW Press]