I was on the 9Magazine site this weekend, catching up on what Porsche related news I'd missed from the weekend, and saw a post mentioning Porsche had launched a new website design (check out the post here: Porsche Launches New Website Design). So I jumped out to Porsche.com to have a look around. Here's a little taste of the site: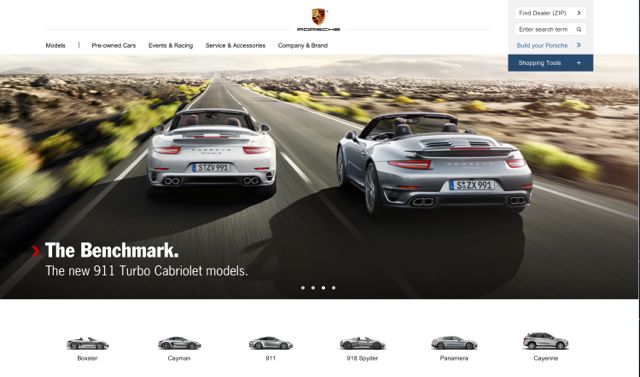 Regardless of what you think of the design, you can't ague with how gorgeous the lifestyle images are that are front and center. I like some of the new features. One of the things I'm glad to see Porsche capitalize on right on the home page are their YouTube videos. They have a cool horizontal sliding section that gives you the ability to view videos right on the site: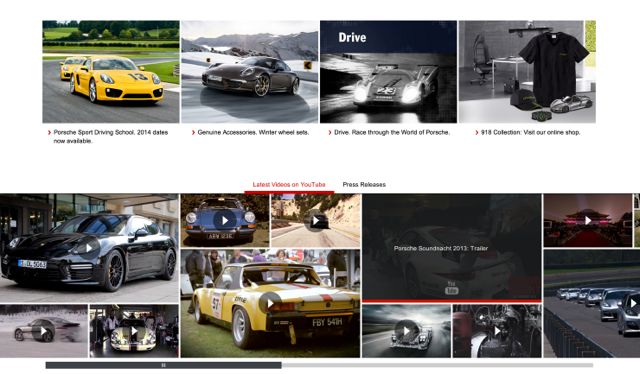 Beyond that, I discovered a couple of things I hadn't come across before. The most notable is the Used Car Selector feature. I hadn't realized that Porsche had added a feature to search it's network of dealers to find a particular model you're looking for. Obviously, this is for finding mostly newer model pre-owned cars, although a dealer in Missouri has a Porsche 968 for sale. No pictures unfortunately.
A few cars NOT available, although I looked…
Carrara GT
918 Spyder
959
944
924
928
One older car I did find was a 1982 Porsche 911 SC Targa with just over 26k miles on it. This looks like a well preserved example of an 80's 911. It's listed for $44,995, so it's not a steal by any means. Great looking car though.
Another couple of tidbits I discovered today on the Porsche.com site. First, Porsche doesn't offer the option to calculate a payment, using their payment calculator, for a Porsche 918 Spyder. Too bad. I wanted to see what my payment was going to be on this $845,000 super car. Guess if you're on the list for a 918 Spyder, you probably aren't going to be financing it. It's going on the American Express Centurion Card!
The other thing I realized, that I didn't know, was that a Porsche 911 GT3 is $50,000 cheaper in it's base form than a Porsche 911 Turbo S. I'm not sure why, but I thought the GT3 would easily be close to, if not over, the $200k mark. Guess it's a good thing I hit the Porsche.com site! I'll save the $50k and just pick up a Porsche 911 GT3.
Overall, I have to say I kind of like the new look and feel of the site. It definitely is a bit more cluttered, but I think it's important for Porsche to bring in it's dynamic content and the site definitely has a more interactive feel to it.
Check out the site here: Porsche.com.
[Source & Screen Shots: Porsche.com]