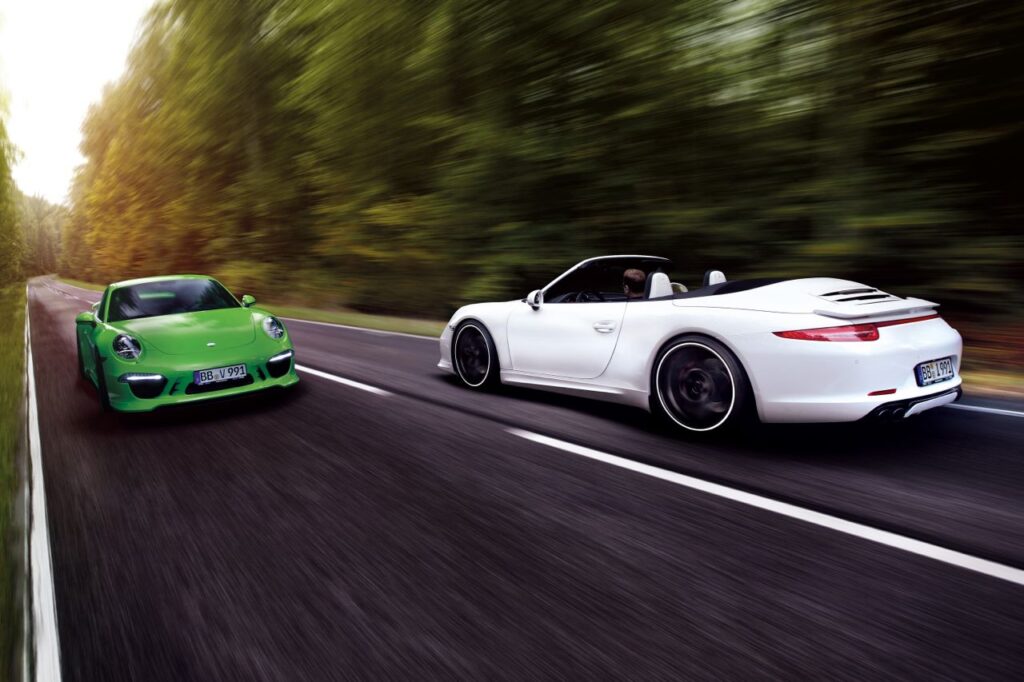 It's over a month away to St. Patrick's Day, but this new kit from TECHART for the Porsche 911 will let you get you green on early! No pinching for you.
Check out the details in the press release:
The new TECHART Exhaust System Racing with valve control and double centre tailpipes replaces Porsche's standard exhaust system and gives the car a more aggressive and sporty look, which reminds of RSR models. Controlled by the sport button at centre console the acoustic performance of the Porsche 911 Carrera 4S becomes clearly more sonorous and throaty. The exhaust system is also drivable in closed condition. As sole manufacturer TECHART currently offers this valve-controlled exhaust system with double centre tailpipes for all Porsche 911 Carrera S models. Also available: TECHART sport end mufflers Racing and sport exhaust system with valve control in combination with double flow TECHART Sport Tailpipes. Both systems are recognizable by black chromed or polished TECHART Sport Tailpipes in typical double-oval design. TECHART Sport Tailpipes are also available for the standard exhaust system of Porsche 911 Carrera S and 4S, as well as for the Porsche sport exhaust system of all current 911 Carrera models.

By pressing a button at centre console the TECHART Noselift System enables 60 mm more ground clearance at front spoiler by raising the vehicle level. System can be activated when stationary and during the ride. Above 60 km/h the vehicle lowers again automatically. Due to the hydraulic unit's compact construction boot capacity remains the same.

At speed of 140 km/h the two-piece TECHART Front Spoiler I with integrated splitter reduces lift on front axle of the Porsche 911 Carrera models by 5 kg. At same speed the TECHART Rear Spoiler II (out of three versions in total), in combination with the TECHART Diffuser, generates additional 17.5 kg down force at the vehicle's rear. Up to top speed this figure increases to 76 kg. Two Aero Wings, integrated into the front air inlet vents lend the 911 Carrera models a dynamic shaft outline. TECHART Side Skirts as well as trims for headlights and side mirrors set visual highlights all-around.

For Porsche 911 models TECHART offers the TECHART Formula 5-spoke light alloy wheel in 20- and 21-inch sizes, as well as the TECHART Formula III 5-twin spoke forged light alloy wheel. A weight advantage of up to 15 % compared to a cast wheel and thus a reduction in unsprung mass contributes directly to an increase in driving dynamics. Beside standard and individual colours, the TECHART Formula III forged wheel is also available in new bi-colour design and burnished glossy smooth finish.

The TECHART in-house manufactory transfers the prestigious exterior colour of the Carrera 4S with precise craftsmanship into the vehicle's interior. Whether door sills and back rests for black-leathered sport seats Plus in Emerald Green or door panels in black leather and green decorative stitching, all vehicle details take up the colour theme consistently. As it is for the ergonomically shaped TECHART 3-spokes sport steering wheel. Covered by black leather and Alcantara with green stitching, as well as integrated TECHART paddle shifters in black matt finish with green symbols, it forms a visual symbiosis with black and green TECHART Dials for instruments and Sport Chrono.
I really like the green, although I'm not 100% sure I would actually own one. You have to admit it's pretty eye catching.
[Source & Images: TECHART]