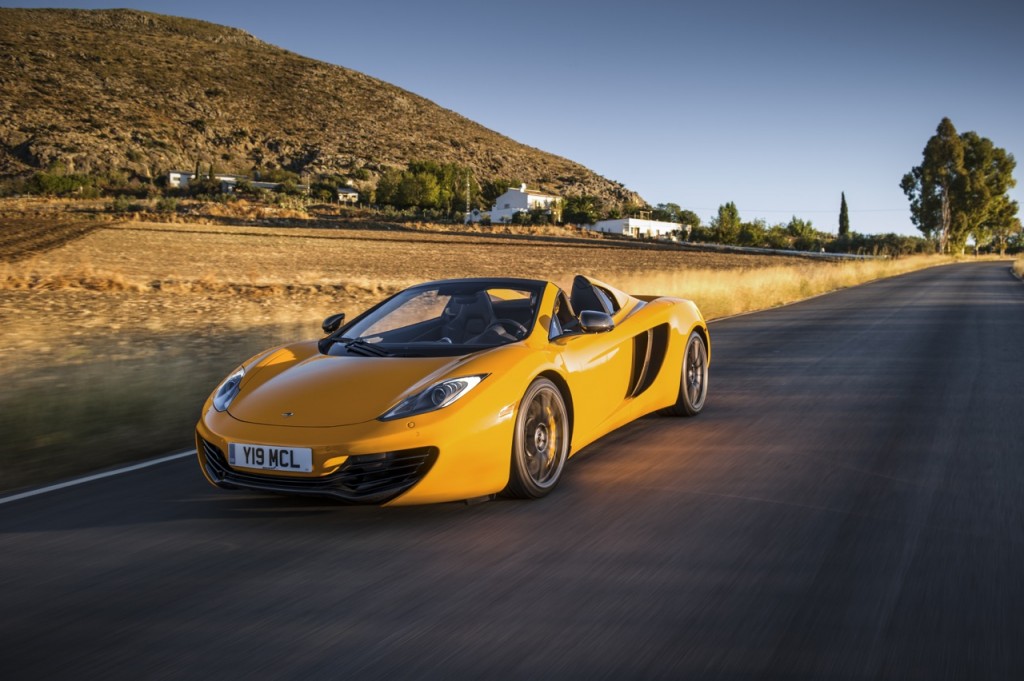 I've not historically been much of a McLaren fan, but I have to say, I'm really starting to like these cars. I was really disappointed to not have the opportunity to drive the McLaren MP4-12C while in Vegas a couple of months ago (I've got a post coming about one of THE BEST exotic car experiences of my life!). I like the rarity of the cars, their styling, and performance. All the things you love about exotic supercars.
McLaren made their first appearance ever at the Italian motor show, the 37th Bologna Motor Show, with one heck of an unveiling. They debuted the drop top version of their 12C…the McLaren 12C Spider.
The 12C Spider is a gorgeous car, and not just because I'm a sucker for the burnt orange color! I can see myself enjoying a lot of sunny day drives in this beauty.
Here are some pertinent details:
Developed alongside the 12C as a "pure McLaren"
Carries a revised 618 hp 3.8 liter V8 twin turbo engine – the same as the 2013 MP4-12C Coupe
Carbon fibre MonoCell ensures class-leading rigidity, handling and safety
Fully automatic two-piece Retractable Hard Top (RHT) can be raised or lowered in less than 17 seconds and on the move up to 30 km/h
0-62 mph in 3.1 seconds
Top speed of 204 mph!
I love the look of the 12C and can't wait for the chance to jump behind the wheel for some hot laps!
[Source & Image: McLarenAutomotive.com]