I'm always getting questions about cars, parts, and fixes for various Porsche problems. In today's Weekly Porsche Wrap I thought I'd highlight some Porsche related forums I've found helpful over the years.
One of the things that's amazing to me about the Internet is the ability for a person to find an answer to just about any problem they could possibly come across regarding their Porsche. It used to be books and magazines were the source. Or letters written to author technicians such as Bruce Anderson.
Sites like the ones below give just about everyone with a car and some desire the ability to be a weekend mechanic. Gotta love it!
Here are a few Porsche related forums that are fairly popular:
Rennlist Forums
http://forums.rennlist.com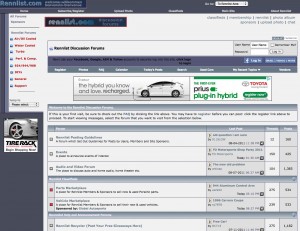 Probably one of the largest Porsche specific forums on the Internet, Rennlist.com has posts numbering in the millions. Pretty much everything is covered, and if it isn't, the active user base can likely step in to answer your specific question. I like the Rennlist Forums for the sheer volume of posts and questions answered. It's a great resource.
Pelican Parts
http://forums.pelicanparts.com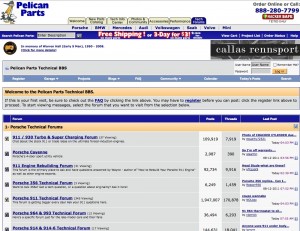 Pelican Parts is best known for their Porsche parts catalog and supply business. They carry a ton of replacement parts and upgrades for your Porsche. The site is a bit on the ugly, ad heavy side, but still very useful. They have a great Tech Forums section with nearly 2 million posts for the 911 alone. I've found the Part Diagram feature on the catalog side to be particularly useful when you're not 100% sure what you're looking for.
Planet 9
http://www.planet-9.com/forums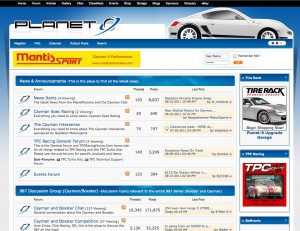 Planet 9 is a Porsche enthusiast site covering every aspect of the Porsche brand and lifestyle. They've built up quite a following and consequently have a decent sized forum with posts numbering in the hundreds of thousands. Their forum is a bit more divided up than some of the others and I like the complaints and modifications threads specific to each model. It's a great place to find quick info and potential problems with a model you're considering purchasing.
Teamspeed
http://www.teamspeed.com/forums/teamspeed-porsche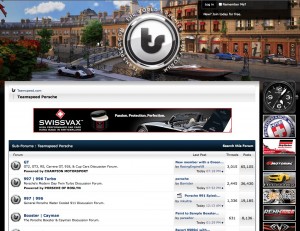 Teamspeed is one of those sites like James' List that I could spend the entire day on. The luxury lifestyle stuff is just fascinating, enticing, engaging, etc. to me. Although Teamspeed is focused on multiple brands, not just Porsche cars, their Porsche forums have a decent number of threads with a fairly active user base. The number of forum topics is pretty limited, but there's some decent info in them.
German Auto Forums
http://www.germanautoforums.com/forum/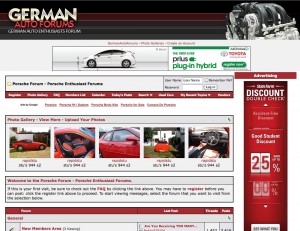 Similar to the Teamspeed forums in size, the German Auto Forums is not the biggest, but again there's some quality info in the posts. Each Porsche model is represented and I particularly like the user submitted updates and changes by topic such as Interior, Audio/Visual Electronics, Detailing, etc. Not the biggest or the best, but a worthwhile place to look when you're in need of technical help or some enhancement ideas.
If you have a favorite forum, add it to the comments section. The great thing about forums, both large and small, are different people hang out in each of them and can provide a different take on a problem you're trying to solve or way to enhance your Porsche ride.