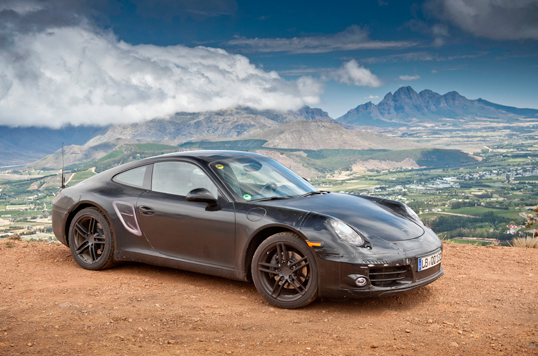 This is an interesting approach. We've all seen the spy shots floating around. Porsche, along with other car manufacturers, attempt to hide new models while they put their cars through real world tests. Porsche, this time, kept a bunch of the camo on their new Porsche 911, the Porsche 991, but let a select group of media have access to the car to experience it prior to the official unveiling. I like that approach.
Scheduled to be officially unveiled at the Frankfurt Auto Show in September, the new Porsche 911, the 991 series, promises to propel the 911 model to the next level. The car takes advantage of technology Porsche has been experimenting with, which have also shown up on other recent models. Here are a few of the highlights:
Wider and longer wheelbase than the current 997 model
Lower stance with a more severely raked windshield
3.4 liter engine cranking out 350 hp, with the S model hitting 3.8 liters and 400 hp
Two 7 speed transmission options in the form of an improved PDK dual clutch version or a "manually controlled single clutch version of the PDK"
Initial 0-60 mph times in the 4.5 second range
Top speed of 186 mph
According to Car & Driver, August Achleitner who is Porsche's head of the 911 range indicated the 991 in "best setup" form ripped around the Nürburgring Nordschleife in 7 minutes, 37 seconds. For comparison, the 911 GT2 RS makes the trip in 7 minutes, 18 seconds.
A new iteration of the Porsche 911 always gets me excited. I love hearing the reviews, the newcomers to the 911 series that get excited about owning one and the die hard 911 fans who hate every new model. It's always unbelievable how far the 911 has come and how long it has lasted. Makes you wonder sometimes how much farther it can go.
[Source & Image: PCA]