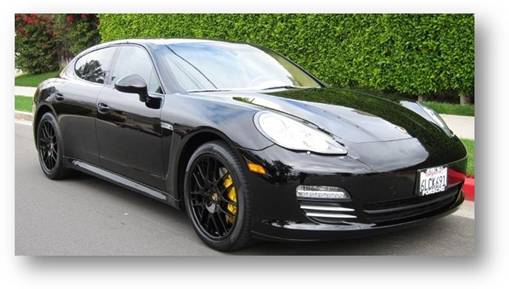 It seems there is no shortage of celebrity owned Porsches these days. If a celebrity Porsche is what you're after, maybe one owned by Sly himself will be just the ticket. It's currently up for auction on eBay Motors with just over 3 days left to go. Reserve had not yet been met with the auction price sitting at $88,100.
Here are some details from the auction:
So you..re looking for a Panamera 4S and want something a little unique? How about this one, it..s really nicely optioned with 20.. RS Spyder wheels, Sport Chrono, Park Assist with camera, BOSE surround sound system yada yada. Is that not enough, well what if I told you this one was owned by Rocky himself?

Here is a chance to own Sylvester Stallone..s 2010 Panamera 4S. The car was also modified and has the blacked out wheels and chrome trim. It..s also had the brake calipers painted yellow like the PCCB cars.

This Panamera 4S is loaded with standard equipment (see the very thorough list below) and has a bunch or really nice options like seat ventilation front and rear, 20.. RS SPyder Wheels, Bluetooth, iPod interface, power rear window screen, Sport Chrono Package Plus, and Park assist with the rearview camera. I can..t think of anything else you would need or want in a Panamera.
Although I'm not a huge fan of celebrity owned cars, I'm a big Sylvester Stalone fan. Loved the Rocky movies (yes, even the sequels) and the Rambo movies (yes, those sequels too). I saw him in Hollywood one time pulling out of the driveway of a house he was shooting a movie at. He was driving a red Cadillac Allante. Had the top down, waved at us and said "Hey". As a kid I thought that was pretty cool and it's stuck in my mind for some reason.
Check out more pictures, including several with Stalone next to the car on the auction page here: Stalone Porsche Panamera
.