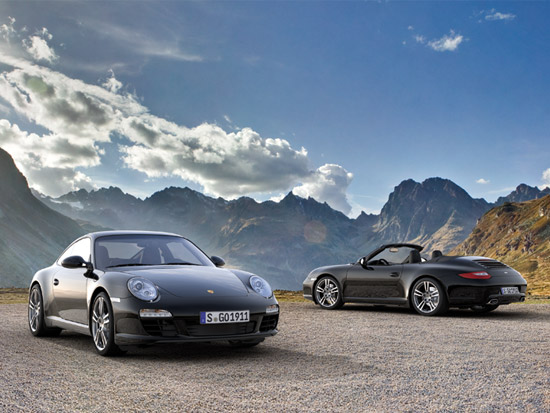 My love affair with exclusive "black edition" things continues. It started with the American Express Centurion Card and hasn't really let up. I darn near fell off my chair when American Express announced the VERY limited Porsche 911 Carrera S Centurion Edition I posted about last year (Porsche 911 Carrera S Centurion Edition). I'm sure I have some kind of problem.
The good news for me, though, is that I don't appear to be alone. Porsche recently announced a new special edition 911 called the Black Edition. It's a model year 2012 car that will be available in the Spring of 2011 (doesn't make a lot of sense to me either).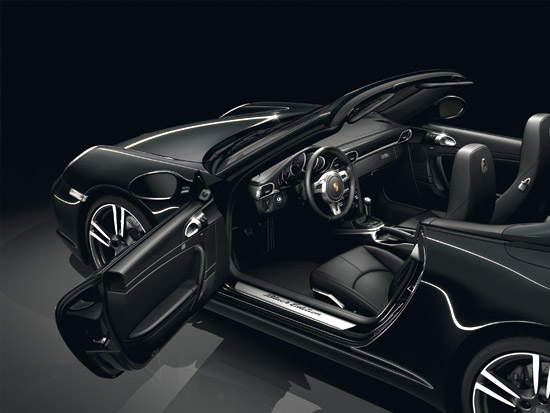 Here are some quick facts on the car:
3.6 liter with 345 hp
0 to 60 mph in 4.3 seconds for the Coupe and 4.5 seconds for the Cabriolet
Top speed of 180 mph in both versions
Coupe and Cabriolet versions
Available in black only (duh!) with two paint options: Solid Black or Basalt Black Metallic
"Comprehensive" list of standard equipment
19″ 911 Turbo II two-color wheels
BOSE Surround Sound System
Only 1,911 copies available worldwide with somewhere near 30% destined for North America
The car carries an MSRP of $81,300 for the Coupe and $91,300 for the Cabriolet. What's interesting is this special edition car actually offers a $6,000 savings over a 911 Carrera with similar equipment.
I love the look of the Basalt Black Metallic. I think black has officially taken my top spot for Porsche colors. With the additional special edition touches on these cars, the Porsche 911 Black Edition nearly makes it onto my Ultimate Car List.
[Source & Images: Porsche Cars North America]