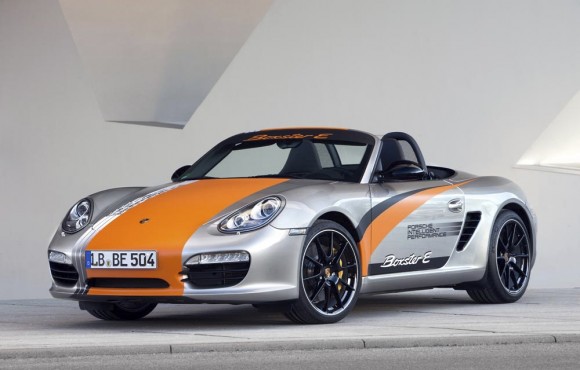 Thanks to 9Magazine for posting about the Porsche Boxster E "Rolling Laboratory" this morning. This appears to be a platform for Porsche to test it's electronic drive components for upcoming models.
According to the 9Magazine site, the Boxster E has the following features:
240 hp motor (I'm assuming some type of gas/electric type thing, but maybe it's all electric)
0 to 60 in 5.3 seconds (this is why I was assuming something other than all electric, the #'s seem a bit slow)
29 kWh battery pack providing a range of around 100 miles on a charge
Porsche CEO, Matthias Müller, said, "Electric mobility will be one of Porsche's central challenges in the coming years, and our engineers are ready to meet the challenge with their usual high standards."
Porsche is supposed to be testing 3 Boxster E's in and around Stuttgart, Germany in the coming weeks. There is supposed to be a new model announced at the Geneva Motor Show next month. Be interested to hear if it's along these lines.
If you haven't been out there yet, check out the 9Magazine site and consider subscribing. You can find them here: 9Magazine.com.
[Source & Image: 9Magazine)