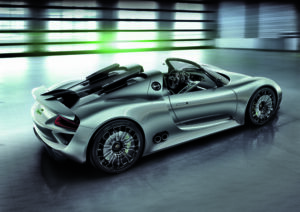 It looks like Porsche has released preliminary pricing for the Porsche 918 Spyder concept car. Bloomberg is reporting it will be priced at 500,000 euros ($630,000) topping the previous most expensive production Porsche by $59,000. The Porsche Carrera GT was priced at $571,000. USA Today is indicating that at least 2,000 people have already committed to buying the 918 Spyder if it actually rolls off the production line.
So far I have seen any indication of how limited of a production run there would be for the Spyder. That alone could pump up demand even more.
I suppose it's a great sign that Porsche has attached a dollar figure to the 918 Spyder. Hopefully it's a sign of things to come.
[Source: Bloomberg.com, USAToday.com; Image: Press.Porsche.com]