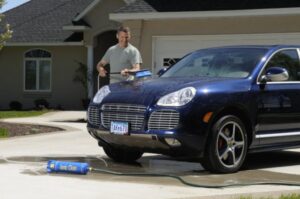 Yesterday was the final day for submitting an entry for the Ionic Clean System we're giving away on PorschePerfect.com. Today we announce the winner. And it is…
Actually, before I announce it, the people at Ionic Clean were nice enough to make this system available to one of our readers. If you haven't checked out their site or our original review post (Ionic Clean: Your Porsche's New Best Friend), please do so. It's a great product that can be bought at a number of places including Amazon.com (here's a link to it on Amazon: Ionic Clean Washing System
). Tell your friends about it as well.
Now, on to our winner. The giveaway was based on the number of times I figured I'd use the Ionic Clean System over the life of the product. I'm guessing it will last for 10 years and that I'd use it 2x a month for washing cars and 1x per year for doing windows on my house. Since I live in Oregon, the most I'll probably be washing cars will be 6 months out of the year. That brings the yearly total to 13. Multiply that by 10 years and 130 was the winning number.
Andrew was closest with a guess of 120 times. Maybe we can talk him into free car washes for everyone close by to celebrate his victory!
Thanks to HomeRight for sponsoring this giveaway!
Keep an eye out for a new giveaway we're launching next week.