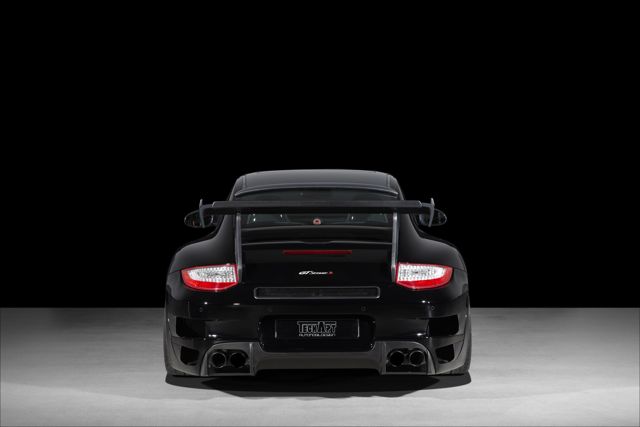 TECHART announced the GTStreet R based on the Porsche 911 Turbo yesterday. In true Porsche 911 Turbo fashion, the same mystique that has always held a special place in people's hearts since 1974, has been captured by TECHART in their latest interpretation. I simply LOVE the black with red accents. I was just mentioning to someone yesterday that there is something crazy sweet about black sports cars, especially when they have racing red sprinkled tastefully here and there.
The GTStreet R is designed for pure driving pleasure as well as full on-track capability. To accomplish this, they've designed a number of features that can be adjusted to desired handling, ride and performance situations as needed. For instance, they've included an adjustable rear spoiler with air inlets that work in tandem with the integrated carbon diffuser in the rear apron to contribute a huge amount of downthrust on the rear axle.
Although not new, but handy track/off-track feature is an adjustable chassis height allowing a driver to adjust based on road conditions as well as performance requirements. This also includes a nose-lift system capable of raising the vehicle just at the front axle up to 60 mm. That's a body kit saver right there.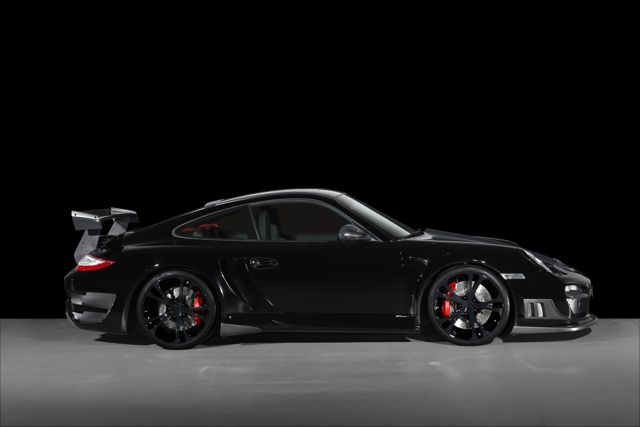 Another included enhancement is a TECHART designed multifunctional day-driving light system integrated into the front apron. This system provides better lighting in both day and night conditions with the output intensity of light being automatically modified with the selected driving light circuit.
TECHART has fitted new Formula 5-spoke light alloy wheels along with either Conti Sport Contact 3 or Michelin Pilot Sport Cup Plus tires. They've also done a fair amount in addition to the body kit items already mentioned.
Enough of that though. Let's get down to 2 very important items: Performance and Interior. How your butt's going to feel in that seat and how your brain's gonna feel when you hit the gas.
As for performance, aside from the external enhancements to the body and the wheels/tires, the engine has been boosted to 660 hp. This provides for 0 to 62 mph times in the 3.5 second range. Top speed is right at 214 mph. I guess that'll do.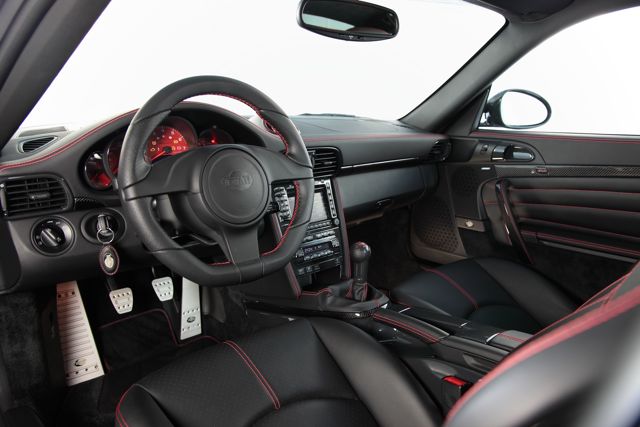 The interior has plenty of the "custom" feel, without being crazy. Again, the black with red accents is dang cool. I'm a sucker for colored gauge faces and those red ones provide a nice compliment to the interior. There's also carbon fiber components, aluminum pedals, and some nice illumination points to enhance the interior. Of course you can also hand over a blank check and customize things to the Nth degree.
Overall, I think the car looks classy, race-track bound, and very desirable. TECHART has taken a car that I've loved for years and provided some enhancements that do the 911 Turbo line proud. The GTStreet R will be on display next month at the Geneva Auto Show. If anyone goes, you HAVE to send in pictures.
[Source & Images: Press.Techart.de]